The Limitless Imagination of Childhood Wonder

Most American childhoods are full of toys. Sometimes the toy comes first, sometimes the TV show does. But either way it soon becomes a collectible – whether the kind you play with or the kind that sits on a shelf, reminding you of your favorite characters. A true fan has more in mind than an eventual sale – for one can never know what'll be worth money later on.
But what about when your favorite just doesn't strike the fancy of the toy makers? What about when the toy maker's version of the character just doesn't match yours?
Making the Toy YOU Want

That's where the customizers come in. These innovative fans go further. They decide they'll make their favorite character look the way they want it to look. It may just be a new paint job, like a Breyer horse going from a boring black horse to a splashy pinto. Or they may go a step further and mash it up, such as taking My Little Pony and decorating it like Yoda or Doctor Who.
How do they do it? Well, I can't speak from much personal experience: I have done a few Breyer repaints but that's it. But I can tell you it takes reference material, a vivid imagination and usually the raw figure, maybe more than one if you are going to mix or match parts. This is a time honored tradition, in fact, the original Star Wars….what became a New Hope….owes much of the early starship models to 'kit bashing'. In other words, they took bits from different model car and airplane kits and mixed them in ways the designers did not intend and certainly didn't put in the instruction manual!
Of course, some companies have caught wind of this and decided to reward the creativity. Breyer puts out a 'bare' paint your own horse kit. Hasbro's Mighty Muggs: which had Superheroes as well as Star Wars, had a 'blank' paint your own version too. And of course, so does My Little Pony. Barbie has a 'style your own' on the web site (although that's not as hands on, obviously.)

Doctor Whooves G4 Custom Pony by ~kd-230692 on deviantART
Not surprisingly these 'bare' kits aren't enough for some though. They might be fine starters, but (expect for Mighty Muggs, which are all alike) they usually offer only one model. And you certainly can't add the furry look of the wookie, the horn of that unicorn or various other features without a bit of tweaking. Surprisingly, some of these use sculpey, judging from my Deviant Art research. This gave me pause. How do you add the Sculpey, which has to be oven baked, to a My Little Pony or other plastic doll, which would melt or burn in an oven? Or do you bake the parts separate (more likely.) Presumably the smaller the toy, the harder it is to 'customize'. Also not surprisingly, these customs have a following of their own.
Can You Do Make Your Own Custom Toy Or Can You Buy One?

Those who can't make, buy. And they pay a good deal too. Are they worth it? Probably. Someone thinks so. It took the cost of materials, plus whatever someone felt their time and creativity were worth. I would guess most of these 'special' toys, are not going to young kids. They are going to the grown up kind: whether they are over eighteen or just young collectors.

Wonder Woman Custom by ~n3gative-0 on deviantART
Of course, there is always that 'iffy' realm between selling fan art and a violating copyright. Okay. Where does the line come in between "My Little Pony", "Star Wars" or "Doctor Who" and the creativity of the person who made it come in? For most, fan art stays fan art if it's 'at most' one piece. Forget merchandising. It's a bit risky even selling one, but it largely depends on the owner of the copyright. I like the think many of these copyright holders recognize their own danger in overzealousness at pursuing a single one of a kind fan custom figure. One doesn't want to alienate their own fans. That might stop hem from buying. And odds are, that custom figure has base parts from regular figures which…ahem…they still want to sell. So they must balance this fine line with care.
And they don't stop with toys. They continue into the dioramas and playsets to put the toys into show off.

Hoth Echo Rebel Base by ~GalerieMoreau on deviantART
And why do we do it? Why do apparent adults and kids of an age when hanging out with friends are normally taking up the time suddenly getting involved with this stuff?
I think it's that emotional, sentimental memory of their fandom. Combined with the need of the arts and craftsman to create, it expresses itself through collecting and customizing. It recaptures a little of childhood's joyous wonder and refuses to let it go forever. Some people keep their fandom in the closet (perhaps literally). Others are more open. But when you walk down the street, taking with friends, even hearing some bully put another down, let the thought come. The most grown up grown up might, in fact…be hiding a pony in the closet. Or that cool custom hotrod, hand painted and paid a fortune for. Don't let them fool you. They are everywhere!


Captain Amerihorse by ~Epona142 on deviantART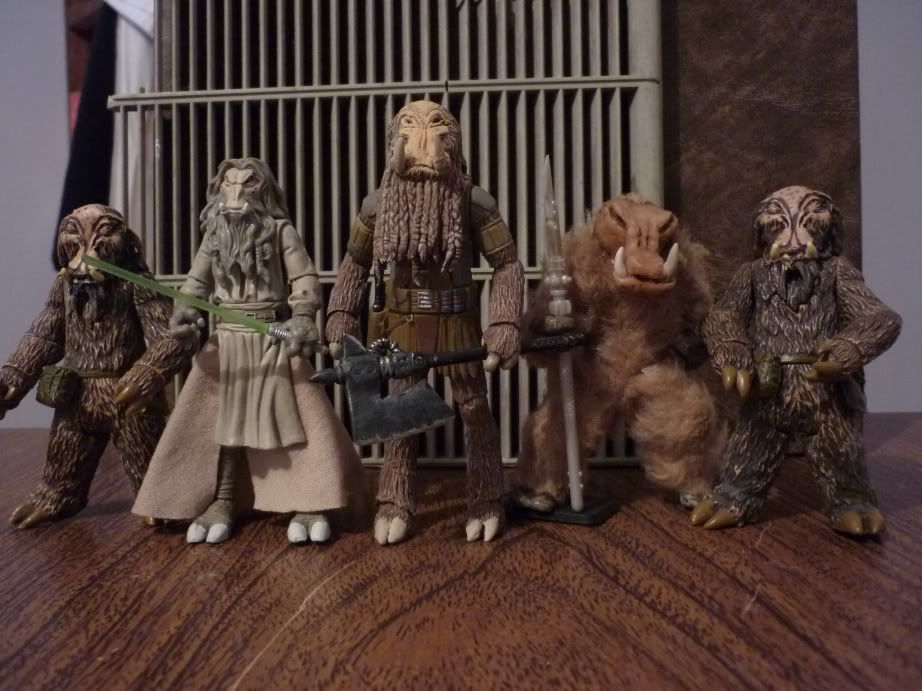 Custom Star Wars Whiphid Action Figures Posted on Photobucket by lugo_matapollos